This is a popular beef ratatouille and dills from Luang Prabang, the royal city of Laos. It is earthy and finds its roots in our forest and garden but it is the kind of national dish that one does not dare to take up when untrained. Our auntie Pa Thouaithong has been famous in the community for this beef stew. She is said to spend up to three days to prepare the delicious and sought-after national dish. I think every woman in our family has spent an afternoon following up, making videos and writing meticulously the recipe. My sister did it for me and here is her scribble.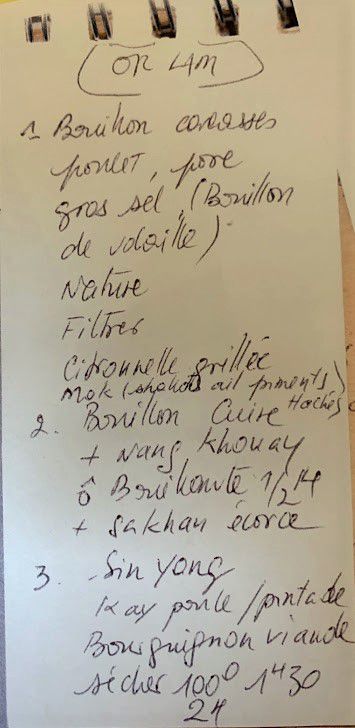 No way I could prepare something that complicated with so little directions. I completed these with the Lao cookbooks at home, with YouTube videos. I found them all flawed on their own but blending here and there resemble what auntie would have probably done. So here is the first iteration of the recipe !
Ingredients:
Vegetables:
A handful of fresh wood hear mushrooms in bite-size pieces (soak for an hour if you have the dried version)

8-9 Thai eggplants, quartered

10 makrut lime leaves

2 cups of pea eggplants (Solanum torvum "mak khaeng")

1 bunch of scallions in 3 cm (about 1 inch) pieces

1 bunch of fresh dills cut in 5 cm (2 inches) long

One sponge gourd also called Chinese Okra (mak bouab) / zucchini

A bunch of spinach

A handful (200 g) of green beans

1 bunch of 'phak tam ning' vine or creeping cucumber (Alan Davidson refers to the "melothria heterophylla")

or young pumpkin vine "gnot mak euh" or flowers

1 Bunch of sweet basil leaves
Meat
One pound of beef shank or chuck

One old fowl or hen

1 chicken carcass and 1 pound of pork bones

2 strips of Buffalo skin (about a cup when cooked and diced)

1-2 cups of crisp fried pork ring, broken into bite-size parts
Spices
1 peeled head of garlic

4-5 peeled and quartered shallots

2 to 3 stalks lemongrass, finger-size pieces, crushed with the side of a knife

3 to 5 fresh Thai red chilies

A piece of mai sakhan (about 5 fingers)
Others
Half-cup Padaek – anchovy sauce

Fish sauce (to taste)

1 tbsp of coarse salt

Half-cup of sticky rice, soaked for an hour and pounded to a paste (my other auntie soak for the night, cook, grill and use it as it is – about 2 fists).

Fried pork skin – about 2 cups / 70 grams
1 – The broth. Prepare a 3-liter (12 cups) broth made of chicken carcass, porc and add coarse salt. Let simmer for two-three hours. Once done, remove the bones and filter.
2 – the spices: roast the shallots, garlic, chilies and pound the mixture to a paste. Roast the lemongrass and add to the broth.
3 – The buffalo skin. If you leave overseas, your buffalo skin is probably pretty dry. Soak it before cooking. Cook it with the broth for an hour or two until tender (this needs to stay chewy). Dice the strip, the size a finger phalange. If in Laos, it is half dry, grill it to burn the hair; pound to remove the chars, cut into small pieces and add to the broth.
4 – the famous "mai sakhan" wood. An ork lam is not an ork lam without the "mai sakhan" wood, also known as chili wood. It provides a spicy 'je ne sais quoi' taste to the stew and can't be found in your regular Chinese or Korean supermarket. The mysterious piece of wood is from a species of black pepper plant that grows across Southeast Asia, the Piper Ribesioides (http://tropical.theferns.info/). The Boat Landing cookbook "Food from Northern Laos" suggests that a "3 cm (1½ in) mai sakhan piece can be replaced by a combination of one teaspoon of whole black peppercorns, five Sichuan pepper berries. plus one dried red chilli and one bitter leaf, placed together in a tea infuser and submerged in the stew". I would also try the fresh green pepper, especially from Kampot. Add a generous piece to the broth as well as the kaffir lime leaves.
5 – The meat. Traditionally, the Ork Lam from Luang Prabang is made of dried buffalo beef. In the version of auntie Thouaithong, she chose beef and an old chewy hen. Choose a lean cut of the beef for stew (the one used for the boeuf bourguignon: "paleron " in French, must be chuck or shank); cut the meat into pieces of about 1 inch / 3 cm; and the hen into 20-22 pieces. Dry the meat in the oven at 200 F (100 C) for 2 hours. Once dried, add to the broth. Cover and simmer for about 2 hours or until the beef is tender.
6 – the padaek. A Lao dish is not a Lao dish without padaek, the anchovy sauce. Heat the padaek in a skillet; filter and add to the broth as well as a splash of fish sauce.
7 – The vegetables. Once the meat is tender, add the mushrooms and the eggplants and pea eggplants. When the eggplants are soft, remove them from the stew and slightly pound then. Add the green beans, the sponge gourd and the crispy fried pork skin. They should be cooked but not too tender. Add the sticky-rice paste to thicken the soup.
8 – Final touches: When ready to eat (really wait for people to be seated), add the tender leaves (spinach, scallions, pumpkin vine, flower and at last, i.e a few minutes before serving: the dills). You want to keep the fresh green colors of the leaves and herbs so keep these really for last minute. My auntie even fans the veggies. Take the pot off the fire, transfer the stew to a bowl, garnish the dish with shopped spring onions. Then serve with sticky rice !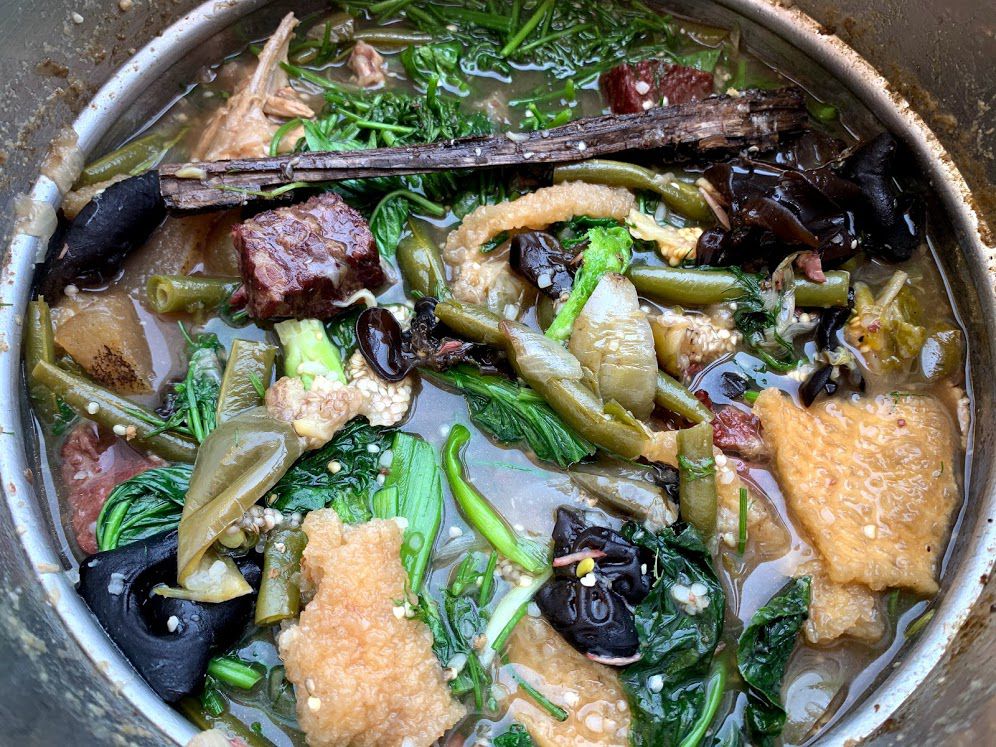 some videos here, not too bad to guide you:
From May Lao Kitchen youtube channel: https://youtu.be/g7S7_bEWYTg
Street food from Sao Darly: